DERMALIFT (non-surgical facelift)
This unique professional treatment offers an alternative to cosmetic surgery. By using gentle micro-currents to stimulate facial muscles the appearance of skin sagging is diminished. The skin's texture is refined, wrinkles plumped up giving you a more youthful look.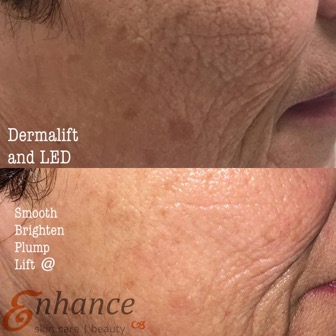 *Lift, tone, & firm facial muscles

*Reduces lines & wrinkles
*Finer pores due to increased elasticity
*Reduces puffiness around eyes
*Improved moisture retention
*Improved circulation, acne, and redness


Introductory offer
Dermalift 30 with infusion mask $140.00

Pay for 5 Get 6th FREE
Before and after photos from series of 5
Just like exercise, this treatment works best in a series, however 1 works well as a lift for a special occasion.