Omnilux
Proprietary gold-standard medical device technology with backed by clinical studies. Paired with the Omnilux Hydrogel Face Mask to maximise light penetration into the skin and supercharge Omnilux Contour™ results. These hydrogel masks hydrate the skin with hyaluronic acid, seaweed, and green tea extract.

Clinical Studies
98%
Skin felt firmer after 3 treatments per week for 4 weeks.
96%
Fine lines appeared less visible after 3 treatments per week for 4 weeks.
95%
Skin was brighter and plumper after 3 treatments per week for 4 weeks.

Sun exposure and environmental toxins result in wrinkles, pigmentation, redness, and dry skin - all the visible signs of ageing. The Omnilux Contour™ Face uses optimised energy output and two clinically proven wavelengths of light work on a cellular level to stimulate skin healing, collagen, reduce fine lines and wrinkles, scaring and reduce the visible signs of ageing and sun damage. Look as young as you feel with Omnilux Contour™ Face

Non invasive & painless

Reduces fine Lines and Wrinkles

Reduces the appearance of Pigmentation and Redness

Helps reduce imperfections such as Scaring and Ageing

Promotes healthier, clearer, younger-looking skin

All natural. No pain, side effects, or downtime

Safe for all skin types

Easy, quick & comfortable

Proven results

Natural & chemical free

Increase the effects of other treatments
Lightfusion light therapy LED
Clinically proven device rests directly on the skin maximising benefits due to less diffraction of light and requires less time.
This photo facial is
uses
no heat
and can be used on any area including the décolletage, hands and lips. Unlike other devices it
safer on the eyes
and feels more
comfortable
. Lightfusion LED energy
creates a cascading effect
(photobiomodulation) treating areas that are not directly covered.

Softer, smoother, firmer skin
from the added Hydrogel marine and probiotic mask that was specially designed to trap the light and help it to absorb into the skin. Delivering powerful anti-ageing effects from the
increased collagen production, hydration, oxygenation
and cellular metabolism in a shorter time frame.
LED Science
The light helps the cells to work more efficiently through the Cytochrome C Pathway; the cells respire more efficiently, releasing the nitrous oxide that blocks the respiratory process and allowing the cells to bind to oxygen. When cells work efficiently the circulation speeds up and skincare products are enhanced.
Lightfusion Rejuvenation Collagen Facial 55mins $160
Includes deep yet gentle skin peel and hand exfoliation,
Relaxation Massage for the face, décolletage, hands & arms.

LED Red Carpet Treatment 30mins $92
includes hand massage.

LED Red carpet Facial plus extra face massage 45mins $122
Transformation Series 3x weekly 30min red carpet $246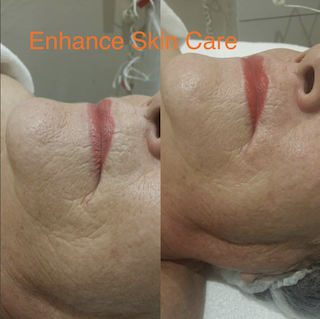 Add on to any other intensive facial treatment $70

Second area such as chest or hands for only $50
Fantastic Packages
Microhydrabrasion
(deep cleanse face and chest) + LED Only $138

Skin peels
+LED Only $162

Dermalift
30 + LED Only $170